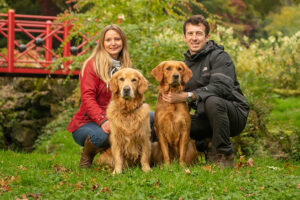 Life wouldn't be the same without my dogs.
I have always lived with dogs and even as child would regularly draw, paint and photograph them. It was only natural that when I grew up and got my own puppy, Bailey, that he quickly became the most photographed dog in existence.
Friends and family were quick to comment on how lovely my photographs were so I started to photograph my friends' dogs and others from our local dog school. People seemed to like them and were soon enquiring about my drawings too. As a result, I have done numerous charcoal drawings, pencil sketches and oil paintings of Bailey and his friends. Soon after, Rymarz Art and Photography was established. Since then I have taken thousands of pictures of a large variety of dogs in numerous settings.
I have photographed family pets in their own back gardens, pets out on hikes in the Lake District, puppies playing with their new families, working dogs out in the field and many more. Meeting many different dogs with their own personalities is one of the best parts of this job. I always come equipped with treats and toys to keep the dogs engaged and get those lovely expressions and poses.
I live near Marston Green, Birmingham with my husband, Gary and my two gorgeous goldies, Bailey and Nala.  In my spare time you'll find me out with the dogs enjoying the countryside. We do obedience and gun dog training, and they both enjoy learning a few silly tricks.
Please have a look around my website and contact me if you need any more information.